Morgan Beatbox's new toy: PDJ handheld DJ Controller
05 February 2013

This beautiful little device was brought into studio by Morgan Beatbox. These aren't available in South Africa yet, but tweet Morgan to let him know if this is something you'd like to buy.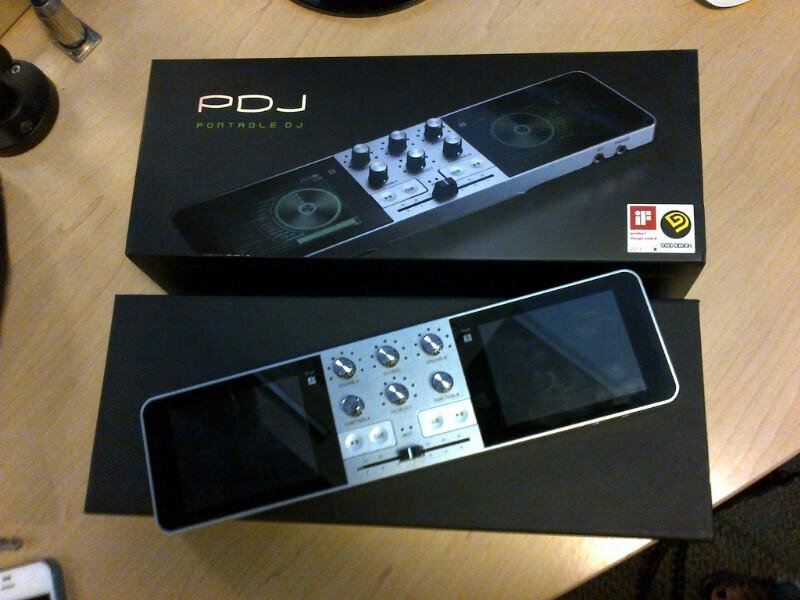 Review by djworx.com:


Coming out of Korea, it's one of those far eastern devices that sticks a middle finger up at convention and does its own damned thing. Here's the spec:
Super fast boot up time (less than 1 sec)
Two MP3 files playback at sametime
BPM analyzer and beat tracker
Speed control with or without pitch shift
Beat synchronized loop
Individual equalizer
Dual full color VGA screens with touch panel
Full color LEDs
Hardware buttons, knobs and crossfader DJ Ooops precise actions
Cue point search using monitor headphone out
Visual waveform helps to find cue point
Beat synchronized sample (electronic, funk, cumbia, etc.)
Filemanager arranges music files by BPM, title, artist or genre order
Various sound effects (phaser, flanger, delay, chorus, etc.)
Two stereo jacks (one for amplifier and one for monitor headphone)
Up to 64GB SD card can hold over 10,000 songs
Up to 64GB internal storage accessible by USB mass storage class
Internal software runs only for the music player (no interruption by other tasks)
Given the increasing invasion of the iPad and iPhone into the DJ market, you'd think it would be sheer folly to create a device like the PDJ. After all, the Pacemaker and Nextbeat didn't set the world on fire. But I have to say that I'm really rather fond of this little thing, in the same way that I really liked the Stanton SCS.4DJ. The idea of an all-in-on device totally tailored to DJing is compelling, and in this form factor does seem to work really well.